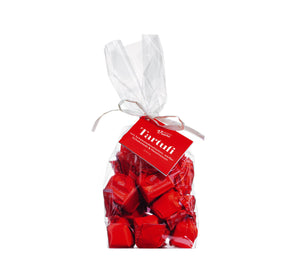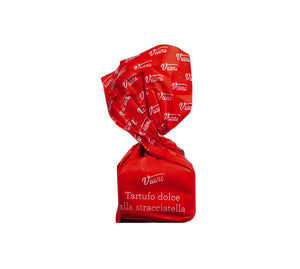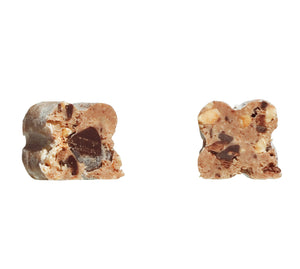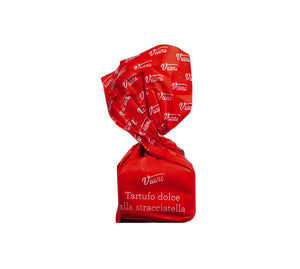 VIANI Tartufi dolci stracciatella 200g
White chocolate truffles with chocolate pieces and Piedmont hazelnuts A wonderfully creamy praline, peppered with roasted hazelnut and dark chocolate pieces is hidden behind the name Stracciatella. It is a heavenly addition to a cup of cappuccino. Approx. 14 pieces in a bag. Gluten free.
CONTENT
200 g
RESPONSIBLE GROCERIES
Antonio Viani Importe GmbH
August-Spindler-Str. 12th
37079 Goettingen
TRAFFIC NAME
White hazelnut chocolates with pieces of chocolate
STORAGE TEMPERATURE
<18 ° C
STORAGE
Store cool and dry
PREPARATION
N / A
OTHERS
Gluten free
AVERAGE NUTRITIONAL VALUES PER 100 G / ML
Energy 2335 kJ
560 kcal
Fat 35 g
of which saturated fatty acids 16.5 g
Carbohydrates 53 g
of which sugar 49 g
Dietary fiber 0 g
Protein 7.5 g
Salt 0.1 g
INGREDIENTS
white chocolate 53% (sugar, whole milk powder, cocoa butter, emulsifier: soy lecithin, natural vanilla flavor), chopped and ground Piedmont hazelnut kernels 21%, dark chocolate 22% (sugar, cocoa mass, cocoa butter, emulsifier: soy lecithin, 52% natural vanilla flavoring at least), sugar, may contain traces of nuts
fat: potentially allergenic substance
Image and text data were courtesy of Antonio Viani Importe GmbH.
Delivery Time: 3-5 Days