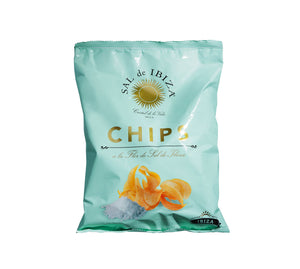 SAL DE IBIZA Chips a la Flor de Sal de Ibiza 125g
Very thin chips from the aromatic, golden yellow potato variety Agria. They are fried by hand. The salt is mild and spicy, namely Flor de Sal and sea salt from Ibiza. The direct import from Spain is appetizingly tanned in sunflower oil. This ideal partner for an aperitif is available in the attractive turquoise bag in 2 sizes. The small bag adorns every bar. The 125 g bag is the rather calming size for aperitifs in the circle of friends.
CONTENT
125 g
RESPONSIBLE GROCERIES
Sal de Ibiza GmbH
Daniel C. Witte
Kleine Hamburger Str. 2
10115 Berlin
TRAFFIC NAME
Potato chips with Sal de Ibiza
AVERAGE NUTRITIONAL VALUES PER 100 G / ML
Energy 1983 kJ
474 kcal
Fat 32.2 g
of which saturated fatty acids 4.6 g
Carbohydrates 43.9 g
of which sugar 0.5 g
Dietary fiber 0 g
Protein 7.8 g
Salt 1.4 g
INGREDIENTS Potatoes (variety: Agria), sunflower oil, fleur de sel, sea salt from Ibiza, may contain traces of nuts, milk, gluten and soy
Image and text data were courtesy of Antonio Viani Importe GmbH.
Delivery Time: 3-5 Days