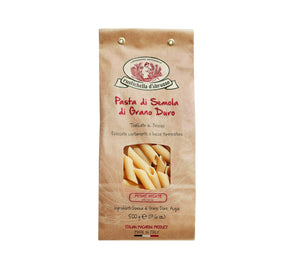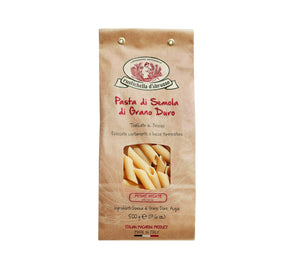 RUSTICHELLA Penne rigate 500g
The grooved "rigates" absorb tomato and meat sauces very well. Their own taste is reserved. The process: "pulling" over classic bronze discs and slow drying. They are packed in the legendary brown paper bag.
CONTENT
500 g
RESPONSIBLE GROCERIES
Rustichella d'Abruzzo S.p.A.
Via Vestini, 20
65019 Pianella (PE)
TRAFFIC NAME
Durum wheat semolina noodles
STORAGE TEMPERATURE
> 18 ° C
STORAGE
Store cool and dry, protect from light
PREPARATION
Cooking time: 10-12 minutes
AVERAGE NUTRITIONAL VALUES PER 100 G / ML
Energy 1493 kJ
352 kcal
Fat 1.5 g
of which saturated fatty acids 0.3 g
Carbohydrates 71 g
of which sugar 4 g
Dietary fiber 3 g
Protein 13.5 g
Salt 0.01 g
INGREDIENTS
Durum wheat semolina, water
fat: potentially allergenic substance
Image and text data were courtesy of Antonio Viani Importe GmbH.
Delivery Time: 3-5 Days