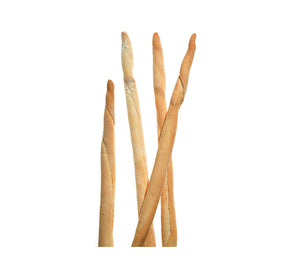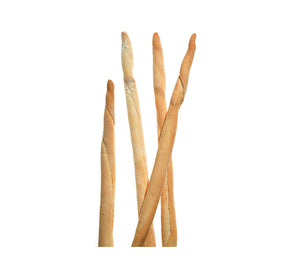 MARIO FONGO Grissini Rubatà 200g
Hand-rolled classics for every trattoria that has something to offer. Baked with olive oil. Ideal snack with ham, for wine or nibbling. Tip: These extra crispy breadsticks with freshly cut, wafer-thin slices wrapped in Parma ham make a perfect starter. Length about 25 cm.
CONTENT
200 g
RESPONSIBLE GROCERIES
Il Panate di Mario Fongo & C.
Via Case Sparse Piana, 17th
14030 Rochetta Tanaro (AT)
TRAFFIC NAME
Savory biscuits
STORAGE TEMPERATURE
up to max. 25 ° C
STORAGE
Store cool and dry, protect from light and heat
AVERAGE NUTRITIONAL VALUES PER 100 G / ML
Energy 1751 kJ
418 kcal
Fat 10.4 g
of which saturated fatty acids 2.3 g
Carbohydrates 71.6 g
of which sugar 1.5 g
Dietary fiber 3.3 g
Protein 9.6 g
Salt 1.6 g
INGREDIENTS
Wheat flour type 00, extra virgin olive oil 5%, lard, salt, yeast, barley malt, may contain traces of milk and sesame
fat: potentially allergenic substance
Image and text data were courtesy of Antonio Viani Importe GmbH.
Delivery Time: 3-5 Days