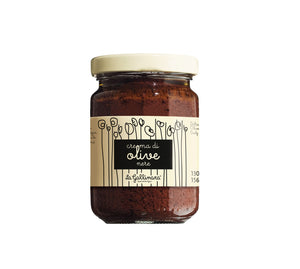 LA GALLINARA Crema di olive nere 130g
Cream of mild black olives and extra virgin olive oil. It has a round, warm taste that tastes pure on a piece of white bread. It is also an aromatic side dish for fried fish such as red mullet, swordfish, tuna and of course for lamb.
CONTENT
130 g
RESPONSIBLE GROCERIES
La Gallinara s.r.l.
Via Isole 5
Località Garbaroni
17038 Villanova d'Albenga (SV)
TRAFFIC NAME
Black olive cream
AVERAGE NUTRITIONAL VALUES PER 100 G / ML
Energy 1093 kJ
266 kcal
Fat 27.4 g
of which saturated fatty acids 4.35 g
Carbohydrates 1.4 g
of which sugar 0 g
Dietary fiber 0 g
Protein 1.5 g
Salt 4.17 g
INGREDIENTS black olives 78%, extra virgin olive oil, salt, may contain traces of gluten, egg, milk, sulfites, fish, peanuts and nuts
Image and text data were courtesy of Antonio Viani Importe GmbH.
Delivery Time: 3-5 Days