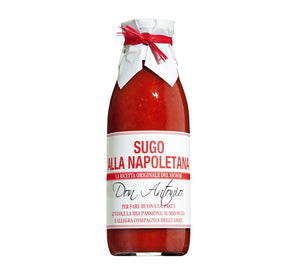 DON ANTONIO Sugo alla Napoletana 480ml
The Neapoletans love it vegetable and flavorful. That is why in this Sugo there are many onions, garlic, basil, tomato pieces and black pepper in addition to the fully ripe tomatoes Don Antonios. Pommarola is called in Naples and is served over spaghetti.
CONTENT
480 ml
RESPONSIBLE GROCERIES
Don Antonio Srl
Via della Stazione, 3
Fraz. Caprigli
66040 Roccascalegna (CH)
TRAFFIC NAME
Tomato sauce
STORAGE TEMPERATURE
<18 ° C
STORAGE
Store in a cool and dry place, store in the fridge after opening and use up quickly
AVERAGE NUTRITIONAL VALUES PER 100 G / ML
Energy 346 kJ
84 kcal
Fat 6.3 g
of which saturated fatty acids 0.9 g
Carbohydrates 4.3 g
of which sugar 4.1 g
Dietary fiber 2.1 g
Protein 1.3 g
Salt 1 g
INGREDIENTS Tomatoes and mashed tomatoes 62%, extra virgin olive oil, onions, celery, carrot, sea salt, basil, garlic, black pepper, acidity regulator: citric acid
fat: potentially allergenic substance
Image and text data were courtesy of Antonio Viani Importe GmbH.
Delivery Time: 3-5 Days