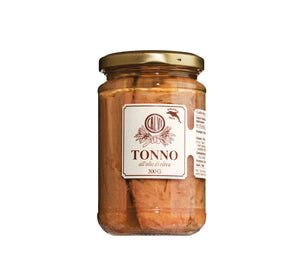 CALVI yellowfin tuna in olive oil 300g
Fresh and traditionally processed, cut by hand. Juicy, tender pieces of yellowfin tuna. Gentle, slowly cooked at low temperatures, clear, spicy and meaty taste, persistent and pleasant. Our reference for tuna.
CONTENT
300 g
RESPONSIBLE GROCERIES
G. Calvi & C. s.n.c.
Via Garessio, 56
18100 Imperia Oneglia (IM)
TRAFFIC NAME
Tuna in olive oil
STORAGE TEMPERATURE
> 18 ° C
STORAGE
Store in a cool and dry place, store in the fridge after opening and use up quickly
AVERAGE NUTRITIONAL VALUES PER 100 G / ML
Energy 802 kJ
192 kcal
Fat 10.1 g
of which saturated fatty acids 3.9 g
Carbohydrates 0 g
of which sugar 0 g
Dietary fiber 0 g
Protein 25.2 g
Salt 0.8 g
INGREDIENTS Tuna 70%, olive oil 29%, salt 1%
fat: potentially allergenic substance
Image and text data were courtesy of Antonio Viani Importe GmbH.
Delivery Time: 3-5 Days