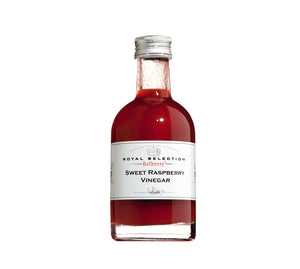 Belberry Sweet Raspberry Vinegar 200ml
Sweet raspberry vinegar
The vinegar with the pulp of ripe raspberries tastes great in fruit salads, over ice, in raw food salads and with fried poultry.
CONTENT
200 ml
RESPONSIBLE GROCERIES
Belberry Trading Company BVBA
Torkonjestraat 21c
8510 Kortrijk-Marke
TRAFFIC NAME
Dressing made from wine vinegar and raspberries
STORAGE TEMPERATURE
up to max. 25 ° C
STORAGE
Before light u. Protect heat, store in the refrigerator after opening, within Consume 3 months
OTHERS
Vegan
AVERAGE NUTRITIONAL VALUES PER 100 G / ML
Energy 231 kJ
54 kcal
Fat 0.4 g
of which saturated fatty acids 0 g
Carbohydrates 12.7 g
of which sugar 0 g
Dietary fiber 0 g
Protein 0.2 g
Salt 0 g
INGREDIENTS
Vinegar 60%, raspberry puree 30%, powdered sugar, thickener: modified starch
Image and text data were courtesy of Antonio Viani Importe GmbH.
Delivery Time: 3-5 Days