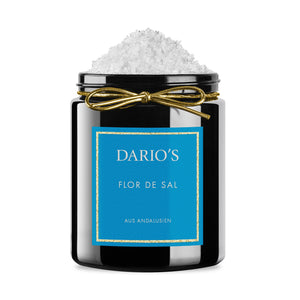 DARIO'S FLOR DE SAL FROM ANDALUSIA, 175G
Experience the pure, clean taste of our in-house Flor de Sal
From the salt marshes of Andalusia, ripened like precious pearls, we bring you the "white gold" with its unique aroma. On the Mediterranean coast of Spain, the salt bloom thrives particularly well due to the climate and the excellent water quality, and so it is here that we have selected the salt manufactory of the highest quality standards for our discerning customers, so that we can bring the crystal clean salty taste of the Mediterranean to your palate.
How to use Flor de Sal for perfect enjoyment
First and foremost: Flor de Sal should only be used for the final refinement of dishes and as fine table salt. This valuable salt is much too precious to use a cooking condiment, as it loses its particularly fine and delicate taste.
As the sea salt still has some residual moisture, you should not use a classic salt shaker or salt mill. Ideally, you simply take the salt crystals and grind them between your fingers as you sprinkle them over your finished meal.
Flor de Sal is perfect for seasoning:
•Fish
• Meat
• Salads
• Grilled dishes
• Potato and pasta dishes
That's why Flor de Sal is so special
The Flor de Sal represents the top, delicate layer of salt, the "icing on the cake", of the salt. This layer is only created when the wind and sun conditions are perfect. The salt blossom is characterized by a particularly harmonious taste and it is also rich in minerals. Furthermore, Flor de Sal is totally natural. These are also the reasons why Flor de Sal is so popular, especially among star and gourmet chefs around the world.
This is how Flor de Sal is obtained
The particularly precious sea salt is extracted in so-called salt gardens. This refers to basins and ponds that are artificially created on the coast for salt extraction. The procedure goes back to a centuries-old tradition in ancient Rome and has hardly changed since then. In order to extract the salt, the sea water is fed into several shallow evaporation ponds, which are lined up in steps. These basins are also called saline basins. Due to the high Mediterranean temperatures, the water in the pools evaporates. As a result, the saturation level of the salt increases with each additional salt basin that it passes through. By the time it reaches the last basin, the crystallization basin, it has evaporated to such an extent that the salt crystals can be skimmed off.
Legal Information:
Ingredients: Salt
Responsible Food Company:
DARIO'S GmbH, Mörikestrasse 2, D-73230 Kirchheim Teck, Germany
Delivery Time: 3-5 Days