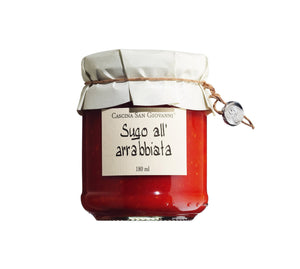 CASCINA SAN GIOVANNI Sugo all'arrabbiata 180ml
With fine herbs and red chilli. It is slightly spicy. Ideally with penne or another short type of pasta and freshly grated pecorino or with lamb chops.
CONTENT
180 ml
RESPONSIBLE GROCERIES
Cascina San Giovanni S.r.l
di Sabina e Dominik Suter
Località Pia, 23
12050 Rocchetta Belbo (CN)
TRAFFIC NAME
Tomato sauce with chili
STORAGE TEMPERATURE
18 - 20 ° C
STORAGE
After opening, keep in the refrigerator and consume quickly
AVERAGE NUTRITIONAL VALUES PER 100 G / ML
Energy 399 kJ
96 kcal
Fat 6 g
of which saturated fatty acids 1.1 g
Carbohydrates 7.2 g
of which sugar 7.2 g
Dietary fiber 1.9 g
Protein 2.4 g
Salt 2.3 g
INGREDIENTS
Tomatoes 70%, onions, chilli, extra virgin olive oil, carrots, table salt, sugar, garlic
Image and text data were courtesy of Antonio Viani Importe GmbH.
Delivery Time: 3-5 Days