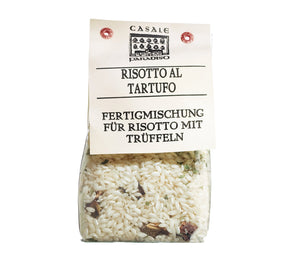 CASALE PARADISO Risotto al tartufo 300g
Small luxury prepared quickly. Steam the risotto mixture in olive oil until translucent, fill up with poultry or veal broth and simmer until the rice is creamy and al dente. Sprinkle with parmesan and serve.
CONTENT
300 g
RESPONSIBLE GROCERIES
Casale Paradiso s.r.l.
Via Fosso Paradiso, 43
66013 Chieti Scalo (CH)
TRAFFIC NAME
Risotto rice with summer truffles
STORAGE TEMPERATURE
> 18 ° C
STORAGE
Store dry, protect from light, use quickly after opening
PREPARATION
see label
AVERAGE NUTRITIONAL VALUES PER 100 G / ML
Energy 1695 kJ
399 kcal
Fat 0.5 g
of which saturated fatty acids 0.1 g
Carbohydrates 90 g
of which sugar 0.02 g
Dietary fiber 2.8 g
Protein 8.2 g
Salt 0.002 g
INGREDIENTS
Carnaroli risotto rice 98%, truffle (Tuber aestivum) 1%, porcini (Boletus edulis), parsley, chives, garlic, truffle aroma
Image and text data were courtesy of Antonio Viani Importe GmbH.
Delivery Time: 3-5 Days